Charting Retirement
---
Case study #1: Michael & Emma
---
Age: 53 & 50
---
Primary Goal:
Consolidate investments, optimize investments & income, and reduce taxes so that they can ensure a comfortable future retirement while working less in the meantime.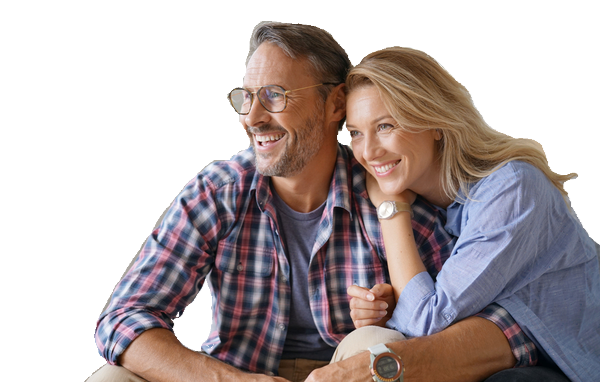 The Situation
Michael and Emma have spent the last twenty-five years working hard, raising a family, and saving for retirement.
They both have passions on the side. Michael loves playing golf and wishes to travel the world playing the world-famous golf courses. Emma has been getting dog agility lessons and wants to start competing regularly. The problem is that they don't have time to begin to pursue these passions truly.
They also aren't ready to retire early. Michael is a high-level executive at a small biotech firm, and Emma is a respected therapist. Both Michael and Emma have fulfilling jobs that add meaning and value to their lives.
They are interested in working less and pursuing their passions, but they want to ensure they will still leave a legacy for their family.
Michael and Emma have solid money habits and have done a lot of the right things. They have contributed to their 401(k)s, earning six-figure incomes, paying off their mortgage, maxing out their retirement vehicles, and having adequate insurance.
So why were they seeking help?
They didn't understand how it all fits together, and they didn't know if the current plan was the right plan.
They had investments, but they didn't know if they really made sense for them.
They had insurance but didn't know for sure it was the proper amount.
They felt like they were probably going to make it through retirement and have money left over to pass down, but they weren't 100% confident.
And when they considered working less, they were excited by the idea, but it led to even more uncertainty.
Thinking about retirement meant a change in the status quo for Michael and Emma, which meant much uncertainty. They know that their future is too important to plan for alone.
The Results
Michael and Emma hired a financial planner, and they laid out a comprehensive financial plan for them. The plan included:
Investment consolidation
Reduced investment costs
Investments optimized into a new strategy designed to improve outcomes over time.
Asset allocations were aligned with their goals and current situation
Optimized investment income with tax-efficient strategies
Set up a smart and adaptive rebalancing strategy
Introduced tax liability reduction strategies with charitable giving, Roth conversions, social security, & more
Analyzed their insurance to make sure they were adequately covered
We optimized their 401(k)s to enable more consistent outcomes and potentially lead to higher compounding over the rest of their careers
Michael and Emma now have the peace of mind that comes with knowing exactly where they stand with a clear financial plan. They no longer spend any time worrying about money and have more time to spend doing what they love.
Want to retire early? Get your FREE retirement assessment today.
---
The first step in our free retirement assessment process is a 30-minute virtual consultation. Schedule your appointment now!
Note: The above case study is hypothetical and does not involve an actual DeWitt Capital Management client. No portion of the content should be construed by a client or prospective client as a guarantee that he/she will experience the same or certain level of results or satisfaction if DeWitt Capital is engaged to provide investment advisory services.